Dr. Ronald Eby is a renowned researcher who has helped safeguard the health of children worldwide by developing vaccines formulated specifically for children. Eby's work in the field began in 1965, when he enrolled at State University of New York College of Environmental Science and Forestry [SUNY-ESF] [2] as a chemistry major. "I was interested in medicine, especially in medical research. I got hooked on carbohydrate chemistry because of the medical possibilities," Eby said.
Upon leaving SUNY-ESF, Eby went to work with Praxis Biologics in Rochester, N.Y., where he and his team, Dr. Dace V. Madore, Ph.D. and Dr. Velupillai Puvanesarajah, Ph.D., went to work developing a vaccine, Prevnar®, [1] which would become the most efficacious vaccine ever developed. According to the World Health Organization, before the introduction of Prevnar, more than 1 million deaths of children under the age of 5 were blamed on the Streptococcus pneumoniae disease that Prevnar has all but eliminated.
Fifteen years in the making, and millions of doses of Prevnar later, the combined efforts of the three scientists and their teams have led to a great advance in child health. Since it became available in 2000, Prevnar® has been called, "one of the most important advances in pediatric medicine," having systematically removed the risk of S. pneumoniae infections in children.
In the 1980s and 1990s, thousands of cases of pediatric pneumonia and millions of ear infections worldwide were still being caused by Streptococcus pneumoniae bacteria. The bacteria, which come in seven main forms, are also responsible for other devastating childhood infections, like meningitis (infection of the brain and spinal cord lining) and bacteremia (dangerous blood infection). Left untreated, these infections can lead to permanent organ damage and even death.
According to the World Health Organization, one million deaths worldwide in children 5 years and younger were linked to S. pneumoniae infection each year prior to approval of Prevnar in 2000. Since then it has all but wiped out invasive pneumoccal disease in young children, preventing 12,700 cases in the U.S. in 2002 alone.
The development of Prevnar® is the culmination of a 15-year effort beginning with Dr. Ronald J. Eby working in his lab at Praxis Biologics (now part of Pfizer Inc.) in Rochester, NY. Dr. Eby knew that he would need to develop new techniques to make a vaccine that would work in the undeveloped immune systems of infants. Available vaccine technology would only allow him to create a vaccine that would work in adults for this condition. The key was to change the vaccine in some way to be effective in children.
Most vaccines work by tricking the immune system into thinking that a real infection is taking place, even though it is not. Then when the person is exposed to that illness again, the immune system is already activated and ready to fend it off. Dr. Eby had to find a substance that would stimulate a strong enough immune response in the immature system of an infant to safeguard from future infection.
Existing vaccine technologies used the outer coat of bacteria to trigger an immune response from the body. Dr. Eby used this approach but linked a protein to the bacteria's outer coat that could be recognized by an infant's immune system.
The catch was that S. pneumoniae comes in seven main forms, so Dr. Eby had to create a separate compound for each of these and roll all of them into one seven-part vaccine.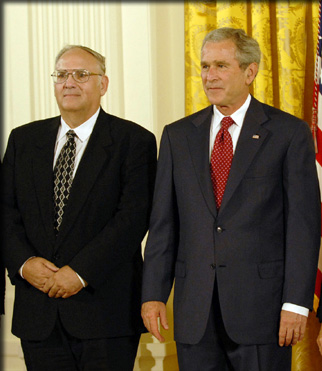 Dr. Eby and his team produced numerous candidate vaccines that had the potential to be recognized by the infant immune system and provide protection against infection. Each one had to be carefully tested. [3]
The impact of the vaccine on child health has been dramatic. The development of this type of vaccine has "represented the greatest vaccine breakthrough of the late 20th century," according to Jeffrey Baker and Samuel Katz of Duke University Medical Center.
For these advancements in pediatric medicine, Eby received the National Medal of Technology, the nation's highest honor for technological innovation. The award was bestowed by President Bush at the White House in July 2007. [4]
"Some might say we were lucky in discovering, scaling up and manufacturing the Prevnar® vaccine," Eby said after the White House award ceremony. "But as the Roman philosopher Seneca said, 'Luck is what happens when preparation meets opportunity.'"
Dr. Eby and his team were honored Sept. 7 at the American Chemical Society's 226th national meeting in New York City. They were named Heroes of Chemistry by the American Chemical Society, the world's largest scientific society, for developing Prevnar®, the first and only combined vaccine to help protect infants and young children against invasive pneumococcal disease. "The broad range of invaluable products that our Heroes of Chemistry have developed and commercialized has dramatically advanced the health, well-being and lifestyles of children around the world," said ACS President Elsa Reichmanis, Ph.D. "The chemical advances made by the honorees serve as testimonials to the valuable role chemists and chemical engineers play in improving lives. It is with pride that the ACS recognizes them as Heroes of Chemistry." [5]